Top 10 Company Culture Builders
September 15, 2016 - 9 minute read - Posted by May Chau
Company culture. If you're an avid reader of business blogs on entrepreneurship or general management the popular term culture will be of no stranger to you.
What is culture?
What makes great culture?
According to Harvard Business Review:
"Culture guides discretionary behavior and it picks up where the employee handbook leaves off. Culture tells us how to respond to an unprecedented service request. It tells us whether to risk telling our bosses about our new ideas, and whether to surface or hide problems. Employees make hundreds of decisions on their own every day, and culture is our guide. Culture tells us what to do when the CEO isn't in the room, which is of course most of the time."
Unfortunately, many studies show employees don't like their jobs. While challenging work may provoke stress from time to time, workplace culture shouldn't be creating additional stress. Culture matters because it creates employee enthusiasm and sustains it over time.
Beyond the human factor, employees that want to come to work everyday are those that tend to be most productive. Becoming more efficient than competitors is a strong competitive advantage to gain.
Here are some top things companies with great work cultures do:
1. Hire for culture fit
When it comes to hiring employees, it's always important to find people that work well with your current employees. No matter how high performing an individual might be, the ones that don't fit in your culture can impact your company negatively.
Zappos for example, makes a point to hire people that represents the company well even outside of work. Chances are, you'll make a passing judgement on a particular company if the person telling you they work there is rude. Successful teams never have a bad hire to discuss but rather, indicates trust in one another.
2. Trust employees to make decisions
As companies grow, the ability for employees to provide input and actively make decisions decrease. Limiting employee involvement can have long term consequences as they are one of the most important stakeholders to the company's success. Great ideas and decisions don't always come from management—they can come from anywhere in the company.
For instance, the Google News tool we all know and love was created by research scientist, Krishna Bhara of Google, not top management. It wasn't a tool he was told to create, but something he felt was useful to build. Trust employees to make decisions.
3. Value collective team intelligence
Ever wonder why so many CEOs address their employees as a team? It's because collective intelligence is far more valuable than one single high-performing individual. Employees are individuals thrown together to work on the same projects. However, as a collective team, the goal and vision is the same and no credit needs to be claimed because the end result was achieved together. Notice how one of the biggest interest communities today, Pinterest, addresses their employees as a team: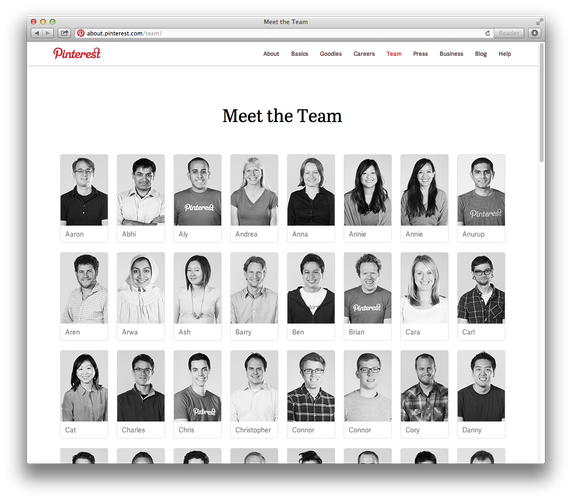 4. Communicate core values often
Since the only way to really know whether an employee lives by company core values is to observe their work over time, candidates that fit company culture are a much safer hire. If they live by similar values in their personal lives, it makes sense for them to carry these same values to work.
Facebook CEO, Mark Zuckerberg does a fantastic job of communicating this:
"The reason why we've built a company is because I think a company is by far the best way to get the best people together and align their incentives around doing something great."
5. Provide flexible work hours
In a previous article, we discussed the importance of building trust in a team. Providing the option for employees to choose when, where and how they get work done is a privilege given on the basis of trust. Discipline without a manager looking over your shoulder is something everyone should seek out in their careers.
Citrix is a software that makes remote working possible and defines strong culture and good values as part of their product strategy.
6. Gives fantastic training
When you find a high-performing individual that fits your company culture, it's time to make sure they have the knowledge necessary to succeed as part of the team. The vast majority of successful companies today, like Discover, provide employees with top notch training.
Not only will training increase the knowledge of an employee, it also supports employee retention. When an employer is willing to invest time and resources into an employees, one cannot help but feel more valued in the workplace.
7. Fosters innovation in the community
What's the next best thing to retaining top talent? It's to cultivate new talent in the community. New graduates are often looking for experiences that many companies are not willing to provide. Companies with great cultures build their own talent and foster strong relationships with educators and students.
REI, a popular outdoor equipment retailer does just this by hiring co-op students—often hiring top talent after graduation. The key here is continuation.
8. Promotes transparency
Promoting transparency develops a company culture based around honesty and building trust. Leaders that are able to do so find themselves in positions where their core values are clearly communicated to the rest of the team. 
Buffer for instance, embraces transparency as a core value. They've not only brought attention to their successes but failures as well. This level of openness is something that employees and customers can both value in the long haul.
9. Believes in continuous feedback
Trust is often interpreted as an action. What is often misunderstood is that trusting is not an instruction, but a feeling. You can't ask two people to trust each other and they will. There has to be the emotional willingness to trust. This starts when individuals get viewed as people, not just as subordinates in a vertical hierarchy. HelpScout believes in ongoing feedback that has allowed them to become an open and strong working team.
10. Recognize the achievements of peers
Recognition reinforces achievements and can be utilized to align employees with company core values. Satmetrix recognizes employee achievements in alignment to their company core values using the 7Geese Recognition Board. By determining both company and employee objectives, they can be aligned with the desired end results. Whether it's increasing employee engagement or revenue, alignment is key to company success.
Stay tuned…
In the coming weeks, 7Geese will be producing a series on workplace culture and performance management featuring fantastic companies. We'll be diving deeper into actionable steps to take in order to build an effective and specialized workplace culture.
More essential components to company culture not listed? Let me know in the comments!
---
Try The Simplest Tool For Greater Workplace Culture
Tags:
company culture
,
work culture